2013 is here, and it still has that new year smell! 
We hope your year is off to a good start. We will kick off our first 2013 show this
Saturday
at the High Noon Saloon! It's the annual fundraiser for
Launchpad
, and the Packers game will be on at the venue before the music starts so you're all good to go there, doncha know.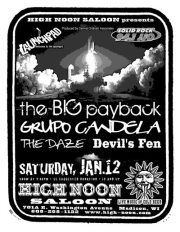 We are locking down details for upcoming gigs in the next few months. We are also hammering out new music, and talk of a new album is even in the air! First things first: see you on Saturday!