Hey internet,
How have you been? We've been busy. Things are brewing in Paybackland. 
We've played some really fun gigs in the last few weeks. We helped Chicago's Underground Lounge celebrate its 3rd anniversary. We had a chance to work with some great kids in the Music con Brio program. And we helped throw a party to raise funds for
Launchpad
, a program that gives high school bands some awesome opportunities!
Now, some of you may have missed out on these shenanigans and goings-on. Fear not! We've got more
shows
 coming! First up is
Cold Sweat: A Madison Funk and Soul Revue
. This little shindig will feature The Big Payback sharing the stage with The Mustache and Megan Bobo and the Mix Tape. That's 3 awesome horn bands! It's all going down at the High Noon Saloon on March 8th. We can't even conceive of how much of a party it's going to be!
Friday, March 8th
High Noon Saloon
9 pm, $7 cover, 18+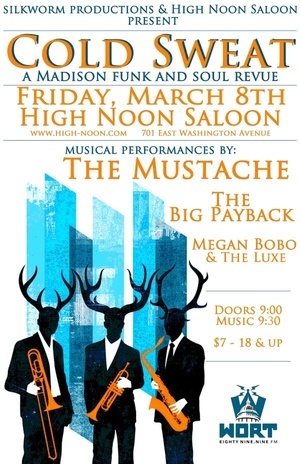 More updates soon. Prepare yourselves!
-TBP