We are pleased to make our first appearance at Madison's own Jazz at 5 concert series!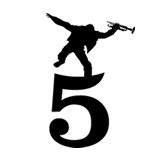 The Big Payback @ Jazz at 5
Wednesday, August 27 5:00-6:30 pm
100 Block of State Street
Madison, WI
Free event
We are gearing up for this unique performance by learning some new material and honing our jazzier side. Expect to hear repertoire ranging from standards to Latin jazz, fusion, and funk. To make the evening extra special, local Latin music star José Madera will be joining us on percussion! 
Jazz at Five is a downtown Madison tradition since 1994. Each year the series consistently provides exceptional free jazz concerts in a stunning locale—the 100 block of State Street, where State Street meets the Capitol Square. When the sun is shining and the music is flowing, there is no better place to be than at Jazz at Five.
We hope to see you there!
Event page
Jazz at 5 website